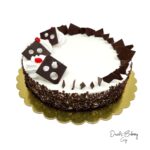 Who doesn't love a black forest gateau, with layers of chocolate sponge soaked
in maraschino syrup and cherry compote complemented with Chantilly cream and
crushed chocolate.
Large – 24cm – 12-16 portions
Gateau to be refrigerated.
Contains; Gluten, Lactose, Eggs.
Produced in a factory that handles: gluten, dairy, sesame, nuts, peanuts, and soy ingredients.
May contain traces.
The decoration of the cake may vary, due to seasons and availability of fresh ingredients.